AUTOBIOGRAPHIES
Secrets of a Sparrow (1993)
(First published January 1st 1993)
If any one performer defines the word "superstar," it's Diana Ross – a pop-music legend and cultural icon who has been at the top of her profession for three fabulous decades. Secrets of a Sparrow, her inspirational and intimate memoir, which takes its title from a favorite spiritual her mother sang to her, focuses on just that: the pain and pleasure of getting to number one and staying there, along with the lessons learned and the lessons taught. Diana Ross's onstage electricity and allure are here transposed to the page. With earthiness and humor, the lady looks back – and she isn't singing the blues. On the contrary, she's writing in a clear, confident voice about the life she's worked so hard to build – the early struggle followed by supreme success, the two marriages and five children, the Oscar nomination and countless music honors, the brilliant business acumen. Secrets of a Sparrow gives us the three-dimensional self-portrait of a glamorous woman who prizes her role as wife and mother every bit as much as her spectacular career, to whom love is right up there with fame. Always true to herself, Diana Ross is the ultimate entertainer, aiming to please but never compromise – and she's not about to start now. Elegantly designed and filled with memorable photographs – many never seen before – Secrets of a Sparrow is as stunning as Diana Ross herself.
---
Goin´ Back (2002)
In this extraordinary "scrapbook"-a photo album as glamorous and compelling as its subject-Diana Ross has insightfully collected a treasury of filmic memories, iconic images, and personal moments from her long career.
An icon and powerful role model for four decades, she has been one of the most noticed people of our time, pictured by all the leading fashion photographers-Richard Avedon, Victor Skrebneski, and Herb Ritts, among them. From lead singer of The Supremes to one of the most successful female artist of all time, from her academy award nominated performance as Billie Holiday to her role as a muse to artists, she has been a powerful and vibrant force in American life.
Hers is an inspirational story, first told carefully in words in her 1993 memoir Secrets of a Sparrow. Here her life is daringly and lovingly assembled in pictures, many never before published, and all rich with recent history, insightful comments, and plentiful anecdotes. From fashion icon to mother at home, this is a rare self-portrait by a verspecial person of our time.
MORE BOOKS…
Call Her Miss Ross (1985)
Diana Ross is one of the biggest-selling female recording artists in history, topping the charts for 30 years since she began The Supremes. This book is the result of research into the life, personality and vision of the woman who calls herself "Miss Ross". J.Randy Taraborrelli has compiled a biography filled with anecdotes and revelations, which unravels the public and private lives of a woman who came out of Detroit to bridge the gap between the black and white worlds. Her triumphs, tragedies, virtues and vices are told in a frank style by a writer who has studied her for more than 20 years. Based on hundreds of interviews with family members, friends and colleagues, the book describes her tempestuous romances with Smokey Robinson, Ryan O'Neal, Gene Simmons and Berry Gordy; her two marriages, the first to a white public relations man she hardly knew, the most recent to Arne Naess, one of the world's richest men; her peculiar, on-again-off-again relationship with Michael Jackson; the antagonistic rivalry engendered among the other Motown artists who felt she unscrupulously clawed her way to the top; the purported Mafia affiliations of Motown, for whom she recorded; how devastated she was when she lost the Best Actress Oscar for "Lady Sings the Blues"; and her eccentric behaviour, as recounted by those who have borne the brunt of it. J.Randy Taraborelli "discovered" Diana Ross when he was a child, and organized the first international fan club for the Supremes at the age of 11. This passion eventually led to a career in writing about music personalities for a variety of magazines. He is the author of "Motown", "Cher" and "Laughing Till It Hurts: The Complete Life and Career of Carol Burnett", and the former publisher and editor-in-chief of "Soul" magazine.
---
A Lifetime to Get Here: Diana Ross: The American Dreamgirl (2006)
This unauthorized biography of entertainment legend Diana Ross strives to give a balanced account of her life and career while giving her the historical due that seems to have escaped her previously. Captured in vivid detail are her groundbreaking performances leading the Supremes, the renowned concert in Central Park amidst a raging thunderstorm, and the peaks and valleys of the more than 40 years of her ongoing stage, studio, and screen career. The book steers clear of dry biography, in that it is interspersed with entertaining essays that capture the effect her life and career have had on fans throughout the years. This book is a must-read for anyone with an appreciation for popular culture over the last half century.
---
Diana Ross Reflections (2015)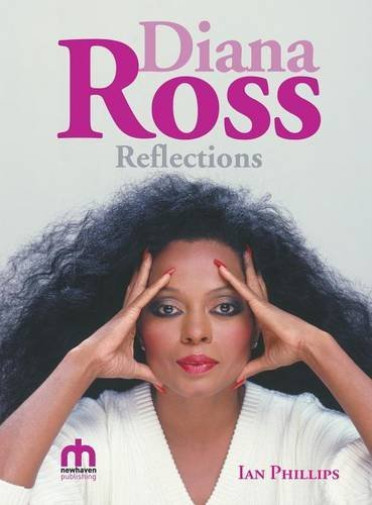 With a career now spanning over five decades, Diana Ross remains one of the most successful recording and performing artists of all time. As lead singer of The Supremes, she amassed a total of twelve number one hit singles between 1964 – 1969, and had a further six as a solo artist. Ian Phillips' book takes a detailed, affectionate and critical look back at Miss Ross' career which began in the late 1950s. Phillips' examines all of her recording work from The Primettes through to the present day, as well as highlighting her many career highlights and accomplishments, including her work in film, television and on stage. There are a wealth of fascinating background stories and anecdotes relating to her river of legendary classics, from Baby Love, Reflections, Love Child, to Ain't No Mountain High Enough, Touch Me In The Morning, Love Hangover, Upside Down, I'm Coming Out and so many, many more. This is an essential read for all Diana Ross fans, spotlighting not only on her ground-breaking success but also her revolutionary cultural impact, overcoming so many obstacles as a black woman and breaking down so many racial barriers. A legend, a trailblazer, pioneer, icon, there are so many words that can be used to describe Diana Ross but so little has been written in such detail on her extensive body of work. Until now. A true labour of love for this book, is an entertaining, and the ultimate, guide to the career of Miss Diana Ross.
---
Diana´s Dogs: Diana Ross and the Definition of a Diva (2007)
The Guinness Book of World Records calls her the best-selling female singer in history. Billboard named her the Celebrity of the Century. Diana Ross, lead singer of the most popular girl group of the 1960s and later a consummate solo artist, has been in the public eye for over four decades. From 1964-when "Where Did Our Love Go?" rose to number one on the pop charts-to the present day, she has been the ultimate diva, an artist worshiped by fanatical fans, yet pilloried in the press for her temper tantrums and untoward demands. Ed Ifkovic delivers his own spin on this international celebrity, an idiosyncratic collection of short pieces that create a portrait of the mercurial star. From a Detroit housing project to a Connecticut mansion-who is this woman who exacts such loyalty from her fans and such vitriol from her detractors? There are pieces on Diana's tantrums, true, but also jottings on the homes she's lived in, the food she eats, the cars she drives, even her role as muse for writers. There is a collection of poetic similes commentators have employed to describe her, as well as a mind-boggling catalogue of garish tabloid headlines. This off-beat book, admittedly an obsessive fan's unembarrassed send-up-equal parts delight and censure-is a spirited yet sardonic tale that also explores the integration of black music into the white mainstream. Frankly, Diana led that noble charge. What the author delights in is the unorthodox observation and gossipy tidbit that accompanied that revolution.
---